"With your help, we can create lasting change!"
– Paul Sofka, PWW Board Member, Matching Donor
With students in Haiti going back to school in August, time is of the essence. Paul has a goal to raise $30,000 by September 30th to help two schools receive lasting safe water, sanitation and hygiene solutions. Paul will be matching all donations, dollar for dollar, up to $15,000 to reach this goal.
The $30,000 will provide comprehensive WASH programs to both schools, reaching 50 teachers and more than 500 students, and will include:
Sustainable access to safe drinking water.
Gender-specific latrines, supporting girls with safely, privately managing their monthly cycles at school.
Hand-washing stations, providing students with the ability to prevent the spread of diseases.
Teacher restroom facilities.
Critical hygiene and menstrual hygiene management education. Includes training for girls, boys, and teachers as well as reusable hygienic menstruation kit for girls.
This project will change everything…empowering students with the critical tools and foundation to safely protect their health and stay in school to achieve an education, opening the doors to their future. 
---
Pure Water for the World began working in Haiti in 2008. Our work has continued to expand, reaching thousands of families with clean water and hygiene in homes, as well as incorporating comprehensive safe water, sanitation and hygiene (WASH) programs in schools.
Leogane, Haiti is the epicenter of the devastating 2010 earthquake. Today, many schools in this area lack basic infrastructure, and students have no clean water to drink, no safe place to use the restroom, and no means to wash their hands. What's more, a majority of female students leave school when they reach puberty, simply because they lack the proper tools, understanding, and safe, private place to manage their monthly menstrual cycles.
Institution Mixte Ambassadeur and Salomon Roosevelt are two of these schools. Both of these primary schools are in desperate need of clean water and safe bathroom facilities. Long-time PWW supporter and Board Member, Paul Sofka, is committed to helping.
Following the 2010 earthquake, Paul visited Haiti for the first time, spending three weeks alongside his son, working to provide disaster relief. It was during this visit that the Haitian people made their way into his heart and a commitment to do what he can to make a difference in their lives was born.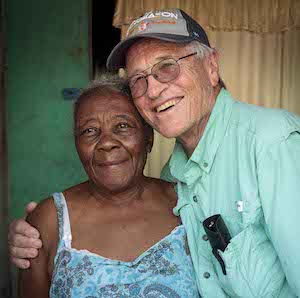 In 2012, Paul became involved with Pure Water for the World.
"For the past 7 years, this 82 year man old has invested his time, talent and treasure with Pure Water for the World in helping Haitian families understand and know that a better opportunity for "survival and "life" can happen! And, seeing the positive results of my efforts keeps me going back!
Haitians have not escaped COVID-19. Yet millions of them have no way to practice the basic protection steps recommended, including simply washing their hands. With your help, we can change this." – Paul Sofka
---
YOU can change the future for students in Haiti, 
and help them reach for their dreams.